Qualitape (UK) Ltd
Qualitape offers one of the most comprehensive ranges of world class technical bonding products around.

All of the products available have been chosen to cover the requirements of a wide range of industrial sectors, so whether its industrial, commercial or for retail, we can deliver.

Expanding Foam Tape
Where expanding foam tapes are concerned, Qualitape offers a range of Xpanda Foam Tapes that are perfect for sealing joints on windows, door frames and a whole host of other applications. They are also a cost effective alternative to polyurethane aerosol foams mainly due to their ease of installation.

Xpanda 600 Joint Sealing Tape
This is our most popular expanding foam tape, it is designed as a weather sealant for both commercial and domestic structures. It not only retains heat indoors, but it acts to keep water out. Xpanda 600 is an adhesive scrim expanding foam tape which makes positioning very easy and straightforward.

Take a look at out Expanding Foam Tape brochure.

SIGA Air Tight Tapes
As the UKs largest distributor of SIGA air tight tapes, Qualitape is able to supply air tight tapes and membranes from some of the world's leading manufacturers of high quality adhesive products.

Structural Spacer Tape
Our structural spacer tape is available in 7.5m or 15m rolls with varying thicknesses from 3mm - 9.5mm.

Qu-Pro-300 Structural Glazing Tape
We only supply Qu-Pro-300 structural tape, it is high tack, double sided and designed for use in structural spacer systems.

Moldex Hearing Protection
Our moldex hearing protection earmuffs are lightweight, foldable and protect up to 34dB.

BBA Approved Xpanda 600, Expanding Foam Tape
Check out our 22 second application video which has been filmed over a 25 minute duration on timelapse. Demonstrating Xpanda 600 being installed around the window to being fully expanded, which has created an airtight and water tight seal around the window frame.


Bespoke Products
On top of this we are able to offer our customers a bespoke product development service in order to help them bring original adhesive products and tapes to the market.

Other Products
We stock a vast range of double and single sided tape as well as non-technical tapes all of which are ready for dispatch:
- Adhesives, Accelerators, Cleaners
- Expanding Foam Tape
- Blowerproof Airtight Paint
- Novoproof EPDM & Airtight Foils
- Masking Tapes
- Moldex Hearing Protection
- Moldex Face Protection
- PPE
- Packaging, Protective Films
- Siga Membranes
- Qufire - Facade UV & Fire Solutions
- Qufire EPDM Solutions
- Siga Primers
- Siga Tapes
- Technical Tapes
- Structural Spacer Tape
Our bespoke service also means we can supply tapes in specific widths and lengths as well as die cut pieces for customers to use directly or to individually re-pack for retail.

Qualitape Services
With a program of continued investment in up to date machinery for converting mill reels and logs Qualitape is also able to provide customers with a number lathe slitting, rewinding and slitting and die cutting services so if this is an area that may be of interest to you please get in touch.

- Bespoke Widths
- Bespoke Lengths
- Die Cut Shapes
- Intricate Pattern
- Masks, Gaskets and Bonding Tapes

Printed Tape Design Service
We can take care of all of your bespoke printed tape design needs. Our in house team of designers regularly provide our customers with bespoke tapes, so whether its tapes depicting basic text or photographic quality reproduction we will not disappoint.
Accepted Payment Methods








Payment Terms
Pro-Forma
30 days
60 days
Reviews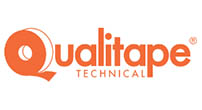 Qualitape (UK) Ltd
01440 710747
1 Sarah Court, Piperell Way
Haverhill Suffolk
CB9 8PA
5
Simon Woodman ,
Many thanks for your prompt return of our certificates. Jake , Vince and myself really appreciated your time delivering our training session yesterday, it was informative without being too "heavy going" and we all took some valuable learning away from it. We are going to start face fit testing across the Woodside sites some time today / tomorrow so I will let you know how we get on.
Events & Shows
FIT Show 2025

Join us from 29th April - 1st May 2025 for FIT Show 2025, the UK's only dedicated event for the wind

From: 29 April 2025 10:00 am To: 01 May 2025 15:00 pm

Details

Kent Construction Expo 2024

Fresh insights into current construction industry challenges, opportunities, emerging technologies,

From: 03 October 2024 10:00 am To: 03 October 2024 15:00 pm

Details
Our News & PR
Fit testing - A simple but effective method for checking that a tight fitting facepiece seals adequately (FFP & Half Masks)

Details