Create Signs
Create Signs is one of Bristol's premier designers and manufacturers of high quality signage solutions.

From consultation and design through to manufacture and installation, when you deal with Create Signs you get the full service and whats more within your agreed budget and completion time.
Interior Wayfinding Signs

Whether directional, identification, information or for regulatory purposes Create Signs offers a second to none Wayfinding Sign design, manufacture and installation service. Due to its size and high visibility Wayfinding signage also provides the perfect opportunity to reinforce your brand!

Since 2002 we have been designing and manufacturing perfect signage to meet each and every customers specific needs.

Commercial - Development signage, site boards, industrial estate signs.
Healthcare -NHS, care homes, dental practises, surgeries.
Local Authorities - Durable and cost effective signage for Bristol City Council.
Retail & Business - Small start up to large corporation branding solutions.
Universities and Colleges - Professional implemented signage solutions.
Visitor Attractions - Dynamic signage to inform, educate and guide visitors.

Our vast expertise in this industry allows us to provide a wide range of business, educational and healthcare sectors with specific signage, wall and window graphics, illuminated signs, plaques and wayfinding signs.

- Acrylic Signs
- Interior Wayfinding Signs
- Development Site Boards
- Hoarding
- Office Signs
- Digital Print & Floor Graphics
- Interpretation Signs
- Glass Manifestations
- Interior and Exterior Signs
- Built Up Lettering
- Banners
- Braille & Tactile
- Wallpaper
Complete Project Management

Whether you require a single sign for your shop front or complete re-branding solution for multiple sites around the country you can rely on Create Signs to bring your signage project to reality.

To find out more about the wide range of wayfinding signage branding options we are able to provide or anything else please do not hesitate to get in touch with Create Signs.
Areas Covered
Our interior wayfinding signs and everything else we offer are available to the following locations and the rest of the UK:
Bath
Bedfordshire
Berkshire
Blackpool
Bolton
Bournemouth
Bradford
Brighton
Bristol
Buckinghamshire
Cambridge
Cambridgeshire
Cheshire
Colchester
Cornwall
County Durham
Coventry
Crawley
Cumberland
Cumbria
Derby
Derbyshire
London
Luton
Manchester
Merseyside
Milton Keynes
Newcastle
Norfolk
North Yorkshire
Northamptonshire
Northumberland
Norwich
Nottingham
Nottinghamshire
Oxford
Oxfordshire
Plymouth
Portsmouth
Reading
Rhyl
Romford
Rutland
Devon
Dorset
Duhram
East Sussex
Essex
Gloucestershire
Greater London
Greater Manchester
Hampshire
Herefordshire
Hertfordshire
Ipswich
Isle of Wight
Isles of Scilly
Kent
Lancashire
Leeds
Leicester
Leicestershire
Lincolnshire
Liverpool
Portsmouth
Sheffield
Shropshire
Somerset
South Gloucestershire
South Yorkshire
Southampton
Staffordshire
Stevenage
Suffolk
Sunderland
Surrey
Sussex
Swindon
Tyne & Wear
Warrington
Warwickshire
West Midlands
West Sussex
West Yorkshire
Wiltshire
Worcestershire
Worthing
Yorkshire

Reviews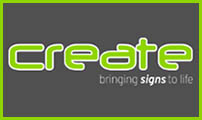 Create Signs
01934 853 888
The Barn, The Bypass
Bristol
BS40 5JQ
5
Bristol City Counci,
We have worked with Create Signs for more than 15 years now, the quality and level of service we get from Create is outstanding and they always go that extra mile to turn jobs around at short notice.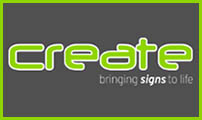 Create Signs
01934 853 888
The Barn, The Bypass
Bristol
BS40 5JQ
5
Justine Thaysen, UWE Bristol
We just wanted to take this opportunity to thank the Create Signs team for their brilliant and collaborative efforts, helping us develop and install the environmental branding for our new state-of-the-art School of Engineering building. The Create team have always gone the extra mile to deliver while working seamlessly across the UWE Bristol community. It is a pleasure to work with such a passionate, committed and experienced team.
Associations, Memberships

ISA UK - International Sign Association UK
Conformities
Constructionline
ISO 9000 Quality management systems – Fundamentals and vocabulary